Design the Home of Your Dreams Using Virtual Rooms
 Close your eyes and imagine your dream home. Is it a grand mansion or a tiny house? Are your color and decor choices more modern or verging on traditional? What are the features you simply can't live without?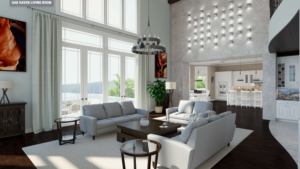 Now, let's break those thoughts down a bit. Say you love the idea of light blue wall paint and white marble countertops in your bathroom. But what happens if the marble you settle on in the long-run is more silver than white? Will it still match your favorite blue hue? It's difficult to imagine, right?
Truth be told, it's almost impossible to design a single room or an entire household in your head without seeing it for yourself in a physical, visual form. And if you're like many homeowners across the country looking to renovate or, at the very least, redecorate one or more rooms of your home, then you're probably looking for the best design tool to start making your dreams a reality.
Cue House Tipster's Virtual Rooms, a tool used by professionals and homeowners alike to build and customize a room from top to bottom using advanced 3D virtual technology. Each Virtual Room is remarkably user-friendly, and the design options are plentiful, meaning that you can mix and match to your heart's content.
So, if you're eager to start designing your dream home, why not begin with House Tipster's layout planner.  Here's some more information to help you begin your design process.
The Birth of the Virtual Room
Home design should be easy. But often, it's not. Unfortunately, there are substandard platforms out there that require a high upfront cost to use and PhD-level technical skills to navigate. Understanding that the design industry definitely wasn't user-friendly, graphic designer and architect Thomas Wolosik decided to take his passion for home design and fuse his tech-savvy skills to create the House Tipster Virtual Rooms, which are now used by hundreds and thousands of industry insiders and everyday homeowners.
Since presenting the technology to the public in 2016, House Tipster has grown by leaps and bounds. What started as a single customizable design space has expanded to over 31 (and growing) rooms with thousands of design options meant to cater to every style preference under the sun.
What's Behind the Technology?
Technology is what fuels Virtual Rooms. For starters, each Virtual Room is hosted on a separate webpage. Once you select the room you want to design and access the site, you're presented with a number of customizable options. These options include everything from the large furniture and countertop appliances to light fixtures, paint color, cabinets, and more. You can also navigate around the room, viewing it from every angle.
It's a virtual smorgasbord! There are thousands of products to choose from to help make this space match your specific preferences. What you settle on is completely up to you.
Try It Yourself
By now, you know there are design "options," but what are they and, more importantly, are they designs you'd want in your own home? There's no better way to know this than to try House Tipster Virtual Rooms yourself. If you decide you don't like how that orange paint clashes with the black stainless refrigerator, changing one or the other is a piece of cake. Just use your mouse or cursor to view your other options.
For example, the Mulholland Drive kitchen planner, a user favorite designed by internationally acclaimed interior designer Christopher Grubb, auto-populates with some great features like the Apple Red Viking Oven and refrigerator and #6 quartz countertops. Before you start making changes, we suggest taking the time to glance around the room using your computer cursor or touch screen so you can see the entire room from every imaginable angle.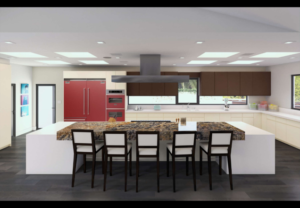 Maybe, after getting your bearings, you decide you don't like the idea of using red metal in your kitchen. Well then, just change it. Click the drop-down menu on the right side of your screen and scroll down to Viking Oven/Fridge. Then, choose the color you want in your kitchen, such as stainless steel.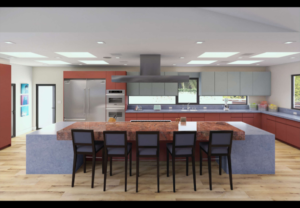 If you're looking to do a bathroom redesign, take a look at the Jade River bathroom design tool. It's infused with European design elements like clean, crisp lines and functional.
Make minor changes like the sink and faucet, or completely redo the whole bathroom. It's up to you!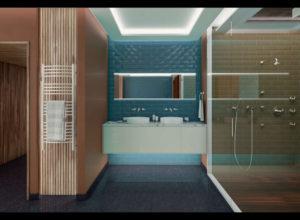 Each room, from bathrooms to kitchens, living areas, and sunrooms, each has a unique feel and specific products that cater to the designs you're looking to add in your own home.
Whether you're looking to make minor changes to your kitchen, such as a new appliance or trendy paint color, or you're ready to knock down some walls in your bedroom and are in desperate need to organize your thoughts about the project, House Tipster's Virtual Rooms are the perfect instrument to guide the process.