The New 3D... Why VR/AR Are The New v-Commerce Tools
Alan Smithson
A new revolution in marketing is coming…
When you mention the phrase 3D, immediately people think of those silly glasses you wear in the theatre or at home that turn your 2D TV into a sort of pseudo-3D that usually ends in eye strain and headache. 3D TV's were marketed as the next big thing for many years, but as anyone who bought one can tell you, they were rarely used by consumers. Recently, there has been a lot of hype about virtual reality (VR), which is also in 'stereoscopic', a fancy word for 3D. The real magic is coming and it will be available to everyone.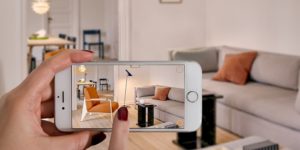 By the end of 2018, there will be over 1.6 billion devices that are enabled with full augmented reality (AR) capabilities and this is about to revolutionize the world of marketing by bringing the exciting world of 3D right into your living room. With the introduction of Apple's ARKit in September, some 600 million devices became equipped with plane detection in AR (your phone knows that the floor is flat and can place an object in context to your real world). This new realm of technology is empowering marketing professionals with an unprecedented reach and unlimited potential.
An estimated 1.3 Trillion photos were taken in 2017 (up nearly 4x from 2010) and the camera is opening a whole new world to marketers. According to a recent study by Boston Consulting Group (BCG), 50 of the top 200 advertisers in the US estimates over 120 million regular users of AR by 2020. The study addresses the main barriers to entry for marketers being: 1. Market Maturity - small scale, lack of track record/results, too large an investment, 2. Impact & Measure - ROI is unclear, lack of measurement tools, and 3. Capabilities and Capacity - lack of internal experience, awareness and time.
Despite these challenges, the industry is forging forward at an incredible pace. Here is what happened in the space just in the past month:
Marketers have adopted new technologies faster than any other part of an organization, partly because they are creative, but probably because they have discretionary budgets. We went from print to radio, television, web and now mobile and marketers kept on the leading edge of each fundamental shift. New technologies such as Chatbots, Big Data, IOT, Artificial Intelligence are slowly making their way into our purview, but to marketing professionals, these are old hat, which has them constantly thinking "What's next?"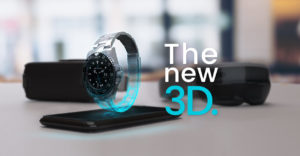 Only a few short years ago, Instagram was introduced to the world and photos became the gold standard for digital marketing followed by animated photos (Flixel) and eventually video. Now we are seeing even more tools popping up on the platforms we love; 360° video on Facebook & YouTube, Augmented Reality on Snap, and now there is a new format that promises to make everything else look obsolete….3D. Have a look at Facebook's new 3D engine.
There is a shift happening and it is happening FAST! We have gone from text to photo to video to 360° video and now to 3D/AR and soon volumetric 360° video and animated 3D. One thing we know for sure is the speed of change is getting faster each day.
What we are looking at in the very near future is a complete shift from two-dimensional computing to a completely new experience of bringing the digital world into the real world in stunning 3D.
MetaVRse Web3D Player™ our new solution for e-Commerce companies to leverage the power of 3D natively on web.
Four years ago, marketers started experimenting with AR. Back then, you needed to point your phone at target in order to reveal an animation on your phone (which worked well for magazine ads and posters). While this technology is amazing and certainly got a lot of media attention, the demand for AR was tepid at best. Fast forward to 2018 and over 1.6 billion mobile devices will be AR enabled without the use of any triggers by the end of the year unlocking the full potential of 3D marketing.
The New York Times has done an incredible job bringing 3D to life in some of their new articles. This article on the Fashion of David Bowie is a perfect example of what the future has in store for us.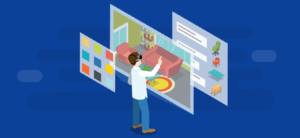 Below is a video from Lowes Innovation Lab that succinctly explains the importance of 3D in v-Commerce.
What this means for retailers is that this fringe technology known as augmented reality has suddenly become mainstream and it is revolutionizing how brands showcase their products. From IKEA's 'Place' app to Amazon's AR View, marketers now have a completely new way to showcase products and enhance the customer experience.
From virtual try-on for glasses to make-up to clothing and in-home product visualization, this new technology is paving the way for a future when we move from 2D screens into the 3D universe, unlocking a whole new world for marketers in every industry.