Inaugural NOVA New Media Interactive Art Competition Announced
Global Search for Emerging New Media Artist Call-For-Entries Now Open.
The inaugural NOVA New Media Interactive Art Prize has been announced by the Beijing Contemporary Art Foundation and the Big House Contemporary Art Center, Wuhan, China. The NOVA Prize seeks to identify a visionary artist who incorporates new media and interactive methods in their work. The Prize is dedicated to uniting artistic concepts with future-oriented technologies, facilitating communication between artists and global audiences.

The juried competition is open to artists around the world. The call-for-entries for the 2018 award will be available at www.bcaf.org.cn/NOVA/en1.shtml from May 15 - July 30, 2018. The winner will receive a cash prize of $16,000 and a three-city expenses-paid exhibition tour beginning at the 2018 Prix Ars Electronica Festival in Austria, traveling to Big House Contemporary Art Center in Wuhan, then to New York. After the jury reviews the digital applications, a winner will be announced on August 30, 2018. The NOVA New Media Interactive Art Prize will be awarded annually.
Collaborating institutions for the NOVA Prize include some of the world's most innovative art and cultural institutions, foundations, and art academies. The seven-person jury includes leading artists and contemporary art curators from the U.S., China, Austria, and Germany.
"We are initiating this prize to support emerging talents and to offer contemporary art experiences and education for the public," said Cui Qiao, president of the Beijing Art Foundation, a publicly-funded foundation and cultural think tank in China focusing on the development of contemporary arts. "The NOVA Prize aims to inspire and encourage emerging artists to explore the intersection of art and technology and redefine the two disciplines."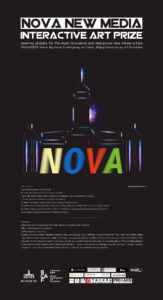 ORGANIZERS  
Beijing Contemporary Art Foundation
Big House Contemporary Art Center, Wuhan China
COLLABORATING INSTITUTIONS
Asian Cultural Council, New York
Asia Society, New York
Academy of Arts & Design, Tsinghua University, Beijing
Goethe-Institut China, Beijing, Shanghai, Hong Kong, Taipei
New Museum of Contemporary Art, New York
New York University
Prix Ars Electronica and Ars Electronica Festival, Linz, Austria
School of Experimental Art, Central Academy of Fine Arts, Beijing
School of Intermedia Art, China Academy of Art, Hangzhou
SymbioticA | The Centre of Excellence in Biological Arts, The University of Western Australia, Crawley
V2_Lab for the Unstable Media, Rotterdam
ZKM | Center for Art and Media Karlsruhe, Germany
JURORS
Cao Fei, artist
Martin Honzik, director of the Ars Electronica Festival, Linz, Austria
Huang Xufu, board of trustees member, New Museum, New York, and co-founder, M Woods contemporary art museum, Beijing
Li Zhenhua, curator of the film sector, Art Basel Hong Kong
Christiane Paul, curator, Whitney Museum of American Art, New York
Margit Rosen, director of Collections Department, Archives & Research, ZKM | Center for Art and Media Karlsruhe, Germany
Qiu Zhijie, artist and Institute Director of Experimental Art, Central Academy of Fine Arts, Beijing
TIMELINE
Call-for-entries
May 15 – July 30, 2108
Deadline for entries
July 30, 2018
Jury review
July 30 – August 30, 2018
Announcement of Nova Prize winner
August 30, 2018
Exhibitions
September 2018 – January 2019
Ars Electronica Festival, Austria
September 6 – 9, 2018
Big House Contemporary Art Center, China
October 1 – November 1, 2018
New York City (location TBD)
January 2019
FOR MORE INFORMATION: www.bcaf.org.cn/NOVA/en1.shtml
ABOUT THE ORGANIZERS
Beijing Contemporary Art Foundation
Beijing Contemporary Art Foundation (BCAF) is the only publicly-funded foundation and cultural think tank in China focusing on the development of contemporary humanities and arts. Instituted in 2008, BCAF is dedicated to discovering cultural innovation and advancing the arts through extensive, dynamic public programs and research. BCAF is committed to supporting content creators with a global vision, and presenting contemporary Chinese arts and culture on the international stage. For further information about Beijing Contemporary Art Foundation, please visit www.bcaf.org.cn
Big House Contemporary Art Center, Wuhan, China 
Big House Contemporary Art Center in Wuhan, China, is located in a renovated 1915 textile factory. Opened in 2015, Big House has become a landmark destination offering exhibitions, art forums, and educational programs. For further information about Big House Contemporary Art Center, please visit www.bighouse.hk/#/