VR and AR in the Veterinary Profession
Christopher Queen
"What is the purpose of your trip to the US, Sir?" What I wanted to say was that I had travelled to Boston, from Dubai, although via a soggy March Madrid, in order to share my thoughts on virtual and augmented reality in the veterinary profession, sharing the spotlight with industry heroes of mine and people who only two years ago I would never have even dreamed I'd be discussing the state of futuristic tech with. "Pleasure," was my answer, one that was absolutely accurate as my experience of attending and speaking at this year's VR Voice 'VR in Healthcare Symposium' was indeed just that.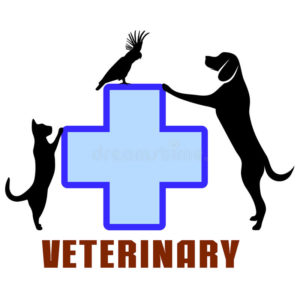 My entry into the world of spatial computing started a few years back when I'd decided to seek out further knowledge of virtual and augmented reality technologies. Both are areas I have long been intrigued by.  Imagine a future whereby we would be able to seamlessly move from real world into virtual ones while using this technology to improve every aspect of our lives from training more effectively to playing in new and entertaining ways, and helping us better interact with the world. The best way, as far as I could see, to acquire such knowledge and really get the lay of the land was to attend industry conferences and start to make some personal connections with those already active in the field of spatial computing. That is how I found myself volunteering at AWE in Silicon Valley, ultimately returning to speak at the event and as a result getting to know Bob and having the distinct honor of jetting over to Washington DC to present at the inaugural VR in Healthcare Symposium last June.
As a veterinary surgeon, I can absolutely see the potential for spatial computing to positively impact many aspects of mine and the wider profession's day to day work, from more effective training in practical disciplines such as surgery, to wellness applications, helping to address some of the concerns that there are surrounding mental health among veterans, and many more uses. The human medical sector is already wholeheartedly embracing spatial computing - that much was clear from hearing speakers at both this and last years' events - and it is only a matter of time before those of us in the veterinary profession also see the real power of this technology.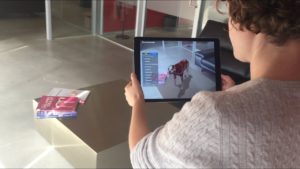 The first big highlight for me of getting to attend this year's symposium was simply the fact that it was being held in Boston, a city that I have long wished to visit, being the home as it is to some of the finest, most widely respected educational institutions in the world, with MIT and Harvard being the obvious stand outs, and with a rich history and unique culture that manages to bridge both the past, being in many respects the birthplace of the nation and a fervent embrace of the future. My inner nerd knew, fundamentally, that Boston was a city that I was going to enjoy exploring and this was certainly the case. At risk of this turning into a travel blog entry what I can say is that Boston, and Cambridge situated across the Charles River, is super easy to get around, both on foot and via public transport, with an excellent metro system that I made very thorough use of. History is evident everywhere, with beautiful views around every corner, and even more evident from the top of the Prudential Center (highly recommended). I stayed a stone's throw from both Boston Common and the Charles River, relishing in the fact that I had brought my sneakers and so was able to join in an activity that Boston seems to be obsessed with: running! The Charles River loop, that takes in Harvard Business School, MIT and affords stunning views of the Boston skyline was worth the trip alone. I even got to experience a genuine Nor'easter, waking up on Thursday after the conference to find myself in a scene from The Chronicles of Narnia - truly magical! And the food. What can be said about the food on offer to those visiting Boston? It is plentiful, varied and delicious, from all the authentic Italian one could wish for in the North End, to astoundingly delicious oysters and hot lobster rolls at Neptune's, to decadent hot chocolate and pastries that demand I went for that daily run. Boston, in my opinion, really did seem to have it all and I was so pleased that I had decided to extend my visit beyond the two days that the symposium was on in order to explore and experience the city and all that it offered.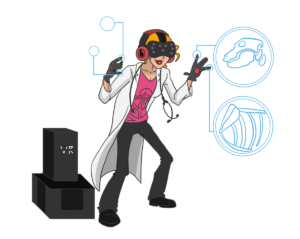 In terms of my experience of the symposium itself, from the moment I caught my first glance of Harvard Medical School and rounded the corner to the conference center, I had the best two days hearing the very latest developments of spatial computing in the healthcare sphere, topics ranging from how VR is being applied to the effective treatment of PTSD, to VR's application as a client and medical student teaching aid, such as the Stanford Heart Project. It was also great hearing from those whose work might not necessarily be the most obvious focus of attention but still hugely important, such as the importance of and challenges associated with integrating realistic haptics. Some of the most fascinating talks I sat in on discussed the use of VR in tackling research questions, such as investigations into weight stigma and racial concordance in medical practice, as presented by Dr. Susan Persky of the National Institute for Health. A number of excellent examples of VR being used to better visualize, interact with and glean value from medical imaging were on show, with the evidence clearly being that VR is a natural fit for such medical modalities. One of the real highlights, in addition to the veritable smorgasbord of excellent speakers, were the exhibitors showcasing a whole host of brilliant VR and AR solutions, including one high definition VR system running a Leap Motion sensor. Tracking my hands in real-time rather than needing controllers and headset allowed interaction with the virtual environment in a much more natural manner while pointing, grabbing and making use of my simulated digits in the same way that I would normally in the real world. This really drove home for me the huge potential that VR represents as a training aid.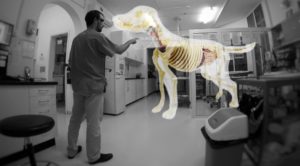 I thoroughly enjoyed the two days I spent getting to discuss all things VR and AR in healthcare while in Boston. In addition to an excellent schedule of top speakers and fascinating content, a variety of interesting demonstrations and workshops, Bob and the team had also arranged a number of fun social events. The initial speaker and sponsors drinks reception held downtown, the drinks and snacks reception on Monday evening, and the after party that same evening were the sort of informal gatherings that really help to foster new professional relationships. I came away from Boston feeling as though not only had I made many fantastic new contacts, but also new friends.
Anyone looking to really get the measure of spatial computing in healthcare is well recommended to make it to next year's symposium, wherever it ends up being staged. I, for one, am already looking forward to returning and am excited to do what I can to progress the use of VR and AR in the veterinary profession.
Chris "The Nerdy Vet" Queen has been a small animal veterinarian since graduating from Bristol Vet School in the UK back in 2007. A self-confessed tech nerd he has always had his finger on the pulse of new technologies and their role in advancing veterinary care and education. Chris was the vet behind the award-winning and first-to-market pet healthcare apps, launched onto the UK Apple App Store (Mucky Pup & Purrfect Paws), and has been blogging on all things nerdy for years. When he is not writing his next book, or getting stuck into surgery, he can be found either plugging in to VR or leaping out of a perfectly decent aircraft all in the name of fun.